Talking turkey: Record prices for birds, potential butter shortages, inflation confront Thanksgiving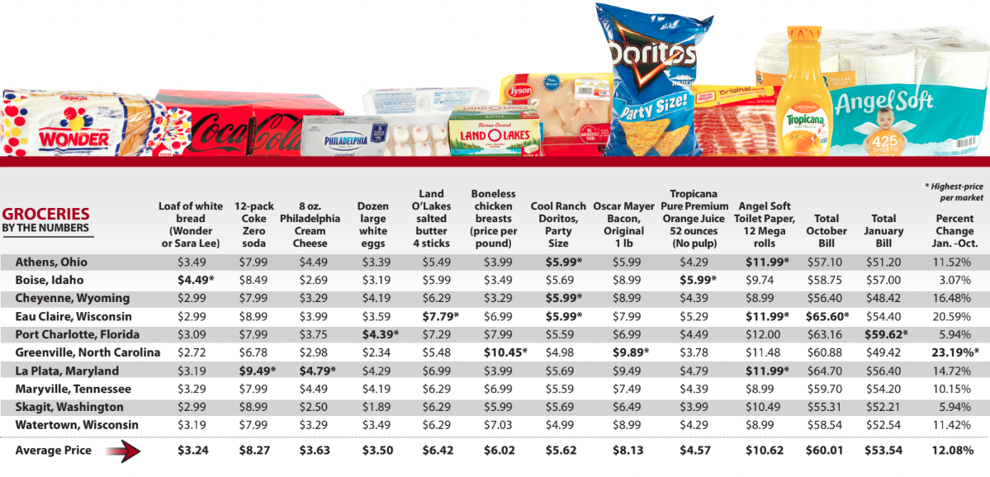 Overall, inflation moderated some in October from its wave of 40-year highs.
But, consumers are still facing increased prices for food — as well as some potential shortages — for the Thanksgiving holiday.
Turkey prices are up 16.9% compared to a year ago, according to new Consumer Price Index numbers released Nov. 10. Higher prices for Thanksgiving's centerpiece birds could get even higher as the holiday approaches.
The American Farm Bureau Federation expects record turkey prices for the upcoming holiday.
Retail prices for boneless, skinless turkey breasts hit $6.70 per pound, which is up 112% from last year when prices were $3.16 per pound. That's a record high, according to the agriculture group.
Turkey and other poultry prices have been impacted this year by bird flu outbreaks across the country. The U.S. Department of Agriculture reports more than 50 million birds in 614 commercial and backyard flocks have been impacted by the avian flu this year. Those result in the culling of chickens, turkeys and other birds.
That has also helped propel egg prices. The latest CPI has egg prices up 43% compared to a year ago, according to the U.S. Bureau of Labor Statistics.
"That's causing a lot of issues," said Lauren Poor, director of government and national affairs for the Oregon Farm Bureau.
Poor is also seeing increased prices and concerns about supplies of butter. "I have heard a lot about butter," she said.
The USDA reported last month there was 22% less butter in cold storage than a year ago and that producers continue to be challenged by labor shortages.
Prices for butter and margarine are up 33.6% since last October, according to BLS.
John Hickman, director of Salisbury University's Business Economic and Community Outreach Network on Maryland's Eastern Shore, also points to USDA forecasts of turkey prices increasing and supply challenges for other items.
"Supply in the U.S. has been impacted by the avian flu," said Hickman.
Turkey prices could be up as much as 73% per pound for whole birds, according to the federal agency.
Holiday ingredients
The new CPI showed a 7.7% overall rise in U.S. prices since October 2021. That is still a painful pinch on consumers but is the smallest year-over-year price increase since January.
Consumers will also see higher prices for other Thanksgiving essentials and ingredients as they prepare for the annual feast.
That includes higher year-over-year prices for vegetables (8.3%) — including potatoes (up 15.2%). Prices for fresh fruits are up 6.6% from last year while canned fruits are up 18.7%, according to BLS. Overall, grocery prices were up 12.4% in October compared to a year ago.
Prices are up for other staples such as flour (24.6%), rice (14.8%), pickles, olives and relish (17.5%) and gravy (14.6%).
Tom Lochner, executive director of the Wisconsin State Cranberry Growers Association, expects there to be plenty of supplies for cranberries for the upcoming holiday season.
"The supplies look pretty good," said Lochner, whose group represents more than 200 growers. Wisconsin and Massachusetts lead the U.S. in cranberry production.
Lochner said there were some inventory challenges during the earlier stages of the coronavirus with increased demand for cranberry juice and dried cranberries from workers and parents and students sequestered at home by pandemic restrictions.
He also referenced weather challenges to growers including fluctuations with temperatures earlier this year impacting crops. "We have seen increased volatility of weather patterns," Lochner said.
Extreme weather and unexpected or abrupt climate and environmental changes have also pushed up prices for lettuce (up 17.7%) and oranges (up 10.8), according to BLS.
Hurricane Ian — a Category 4 storm with a 60-mile eye wall that hit southwestern Florida in late September — could have a $1.56 billion hit on Florida's agriculture industry, which is led by citrus crops, according to a post-storm analysis by the University of Florida.
Lettuce prices also have gone up and supplies have gone down after lower crop yields in California as well as international markets such as Australia due to warmer temperatures.
Price points
Christa Leupen, a spokeswoman for North Carolina-based Butterball Inc., said the turkey giant "has not seen any supply disruptions" and influenza outbreaks have impacted less than 1% of production.
Leupen expects supplies "to look the same as last year." She also does not expect American consumers to ditch turkeys as the centerpiece protein of their Thanksgiving meals. Instead, U.S. households might cut back on other side dishes and desserts for the holiday which is anchored by the Macy's Thanksgiving Day Parade and football games.
Leupen also noted turkey is traditionally a less expensive meat and all the leftovers options the birds offer. Butterball is also donating 150,000 turkey meals this holiday season to charities helping those in need, she said.
Major grocery chains, some of which have faced scrutiny over price increases and profit margins during the inflation wave, mostly did not respond to requests for comment about Thanksgiving.
The exception was ALDI, which has more than 2,200 stores in 39 states including Maryland, Ohio, Virginia, Minnesota, California and New York.
The German-owned chain announced Nov. 1 it would be charging 2019 prices for more than 50 popular Thanksgiving items at its stores including cornbread stuffing, cheeses, apple pie, macarons and select wines.
That comes after an October announcement of price cuts that will run through the end of the year for products such as honey, black beans, juices, ground beef and salmon.
"While the entire industry has been facing inflation and rising costs, we're doing everything we can to keep prices down."
In Oregon, Poor said labor shortages have put upward wage pressures on farmers and other food producers. Higher fertilizer prices (spurred by U.S. sanctions against Russia and Belarus) as well as state regulatory costs, including new state overtime and emissions rules are also baked into food chains.
"You have inflation. You also have the increased costs from fuel and fertilizer costs. Then everyone had to pay more for their labor because they were unable find anyone to work for a while," she said, referring to pandemic and post-pandemic labor shortages.