With students and teachers in Southern Maryland beginning to make their way back into school buildings, some remain weary while significant COVID-19 cases are still present in local communities as well as within some schools.
St. Mary's is the only county that provides the public a breakdown of positive cases per school each week on its website. Charles County provides a total number of staff and student cases by month, and Calvert County only offers vague data divided by region.
Over 100 school staff have tested positive for COVID-19 since August in St. Mary's, where most teachers have been working in school buildings the entire school year. The county's teachers union expressed discomfort from educators with having all students who have opted to participate in in-person instruction returning to buildings by March 1, even in a hybrid fashion.
Sarah Penrod, president of the Education Association of St. Mary's County, shared with Southern Maryland News earlier this month that teachers have been handling the transition to online instruction "really, really well" since schools closed last year due to the COVID-19 pandemic.
"They've been working harder than ever before" and "making it work," she said, as most had to take everything they knew about their jobs and change it around.
She claimed "there is not a single educator who doesn't want to go back to school when it's safe," and noted "some are excited" but "some are scared" to return with virus metrics still trending high.
Teachers are "appreciative" they've been pushed to the front of the line to receive the COVID-19 vaccinations, she said, but there are still concerns of spreading the virus or "bringing it home" to family who may be more susceptible to severe illness.
At this point, most public school staff in St. Mary's have had the opportunity to receive both doses of the COVID-19 vaccine. Last week, St. Mary's public schools' Superintendent Scott Smith said he does not know the exact number of staff who have been vaccinated, as the school system is not entitled to that information, but original survey responses showed over 70% intended to do so.
He said so far employees have been following COVID-19 protocols inside schools, but if someone repeatedly disregarded the safety protocols, the school system would follow disciplinary procedures. He said the school system "exercises no authority" of how staff behave "beyond the workday or schoolhouse."
Governor's announcement 'created chaos'
All Calvert public school students who chose to move forward with the hybrid model of instruction will be back in buildings by March 8.
In some ways, educators have been faring with 100% virtual instruction "a lot better than the public has perceived," according to Dona Osteno, president of the Calvert Education Association.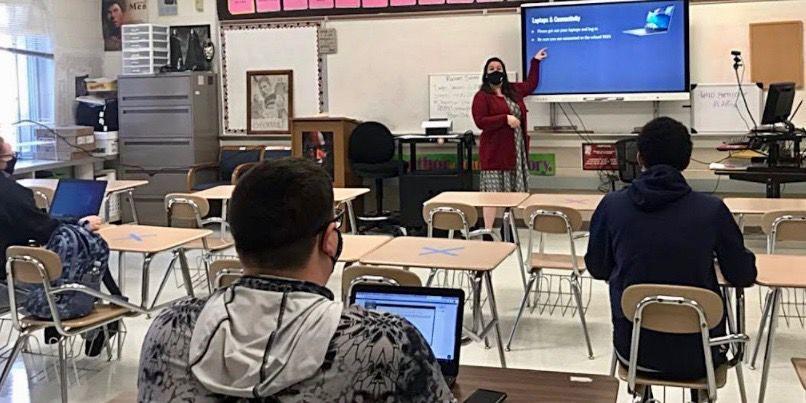 When Gov. Larry Hogan (R) and State Superintendent Karen Salmon called for all Maryland schools to reopen at some capacity by March 1, Osteno said it "created chaos."
In January, the Calvert school board discussed how bad COVID-19 metrics were locally and made the decision to keep instruction all virtual indefinitely, and then one week later Hogan pushed school systems to open, she said.
The president noted how officials have said vaccinations should not drive reopen dates, but countered that "students can give [the virus] to their adults," and COVID-19 can be spread through teachers and parents, as well.
"We thought we should wait until March 1 for just small groups [of students to return] but we couldn't get the people in charge to agree with us," Osteno said.
She said although vaccines have been offered to most educators, there are still some who haven't gotten the chance to receive it. According to a survey done earlier this month, Osteno noted 86% of staff who responded said they intended to get both doses of the vaccine.
Last week, Daniel Curry, superintendent of Calvert public schools, said in cooperation with the county health department, they "were able to start with school staff in priority groupings in late December," and "at this time our first two groups" out of seven have received their second vaccine. All other groups have had their first with approximately 100 left to go, including some recent hires, long-term subs and student teachers.
Throughout the pandemic, some staff have had COVID-19, but Osteno said for the most part they've been "pretty good" with protecting themselves inside and outside the school buildings. She mentioned there has been one outbreak in a staff lounge within one of the schools, which brings up the question of how to prevent the spread of the virus during lunchtime.
Osteno assured "Calvert has been pretty much on top" of providing personal protective equipment and other supplies to teachers, and although some are still concerned.
In Charles County, over 200 staff members have tested positive, mostly since the Thanksgiving holiday. According to Linda McLaughlin, president of the Education Association of Charles County, the teachers she represent have been "working just as hard" as ever to provide a quality learning experience to their students. She commended the flexibility of the school system and teachers, while some worked from home and others from their classroom.
She said teachers really "would rather be in classrooms, building relationships" with their students, but they also want the opportunity to be fully vaccinated before returning to the buildings.
In a survey where 65% of teachers union members responded, McLaughlin said 70% did not feel safe returning to school buildings yet. And, 60% of respondents said they wanted the vaccine and those who said no had various reasons for the decision, such as other health concerns.
There is no consequence for refusing the vaccine but those staff members are held to the same expectations as those who do decide to get vaccinated.
According to school communications staff, as of Feb. 11, 2,400 staff members received their first dose, not including staff who received vaccines through other channels such as being included in Phase 1A due to a part time job, age or received doses through the hospital or pharmacies.
The rate at which staff are able to get vaccinated depends on availability, which is currently a state issue as some supply has been diverted to two state mass vaccination sites at Six Flags America in Prince George's County and the Baltimore Convention Center Field Hospital. Last week the Charles school board voted not to return small groups of students back to the buildings until March 22, allowing for more time for educators to receive both doses of the vaccine.
Although, McLaughlin said, no one can control what teachers and other staff do at home, there has been virtually "no spread in school buildings, which tells me people are following protocols … [teacher's union] members are very proactive, asking questions" and reporting any transgressions, which are then addressed.
The president said she has participated in some "safety walk-throughs" in some of the schools and she's "really happy with steps being put into place for buildings and workspaces" to ensure a safe working environment for all involved.
James Ball, an art teacher and athletics coach as North Point High School in Charles, shared with Southern Maryland News this week that his experience with virtual instruction has "been great," but he is excited to "get back to a somewhat normal schedule" when students return. The art teacher said he's been teaching from his classroom since the beginning of the school year and pointed out he was nervous to be in the building at first, but became more comfortable after seeing how often service workers are cleaning.
"There are still some concerns out there. … We fear what we don't know," he said, adding once people see the safety protocols in place in action, their nerves may be eased a bit. He also mentioned teachers have learned a lot about technology through this whole process and in the end, their new skills will "enhance" what they have already been doing.
Twitter: @MadisonSoMdNews